Commercial Pressure Washing
When clients, patients, or guests come to your commercial property, the building's exterior has a huge impact on their first impression of your organization. And it is important to make that impression a good one! Which is why our team at Water Workz is here for all of your professional commercial pressure washing needs. Our team will make sure the outside of your commercial building is clean and pristine year round!
We are proud to offer our commercial power washing services to all types of commercial properties throughout Dallas.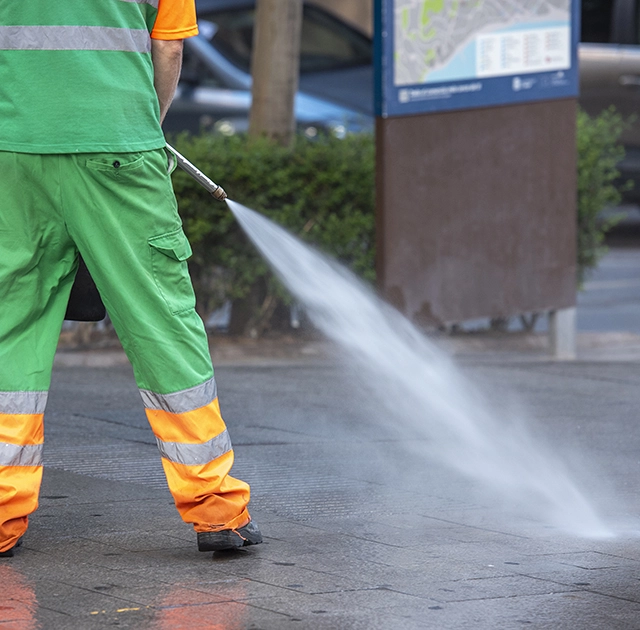 Customized Commercial Pressure Washing Services
We know that there's no one-size-fits-all commercial cleaning solution for the businesses we serve. Some commercial properties have awnings, while others have large outdoor areas that need to be tended to. Because of this, our team takes the time to conduct a complete facility assessment of your property to ensure that your business' unique needs are met with our commercial pressure washing services. Our highly trained pressure washers will speak with you to learn more about the needs of your facility and work with you to design a custom pressure washing solution.
Our commercial pressure washing team has the training and equipment to get the job done right, so your facility can make the best impression possible. Scaffolding equipment, cranes, and aerial lift platforms are just some of the tools that allow us to clean even the hardest-to-reach spots.
Parking Lot Cleaning
Trust our team with your parking lot cleaning! Clean parking lots help keep the look of your business exterior professional. Our cleaning services include environmentally friendly products for parking lots, sidewalks, and entrances. Our process of removing first and debris extends the life of the asphalt and provides long-term financial benefits for your facilities.
Whether we're called in for an emergency clean-up or just washing away years of built-up grime, the team at Water Workz has the expertise to bring back the curb appeal of your commercial facility. We're proud to serve all industries, including medical, hospitality, educational, retail and more. No facility is too big — or too small — for our team of pressure washing professionals.
Our Other Commercial Pressure Washing Services:
Parking Lot Pressure Washing
Building Cleanings/Pressure Washing
Side Walk Pressure Washing
Strip Mall Pressure Washing
Office Park Pressure Washing
Condominium Pressure Washing
Town Home Pressure Washing
Store Fronts Pressure Washing
Awnings and Signs Pressure Washing
Fleet Vehicle Pressure Washing
Playgrounds
Fountains and Monuments
Trash & Dumpster Bin Area