Soft Wash or Pressure Wash for your Residential Pressure Washing?
When it comes to soft washing, this process incorporates special low-pressure nozzles on the end of a pressure washing gun or wand. This nozzle is then combined with a biodegradable chemical that works to remove mold, algae, pollen, dirt, moss, and other stains without damaging your home's surfaces or killing your plants.
Our team at Water Workz, utilizes soft washing techniques to thoroughly clean your home's exterior. This process allows us to use chemicals that are environmentally friendly to kill bacteria and other grime off of your home's exterior. Soft washing allows us to keep your home clean and pristine without causing damage to your siding.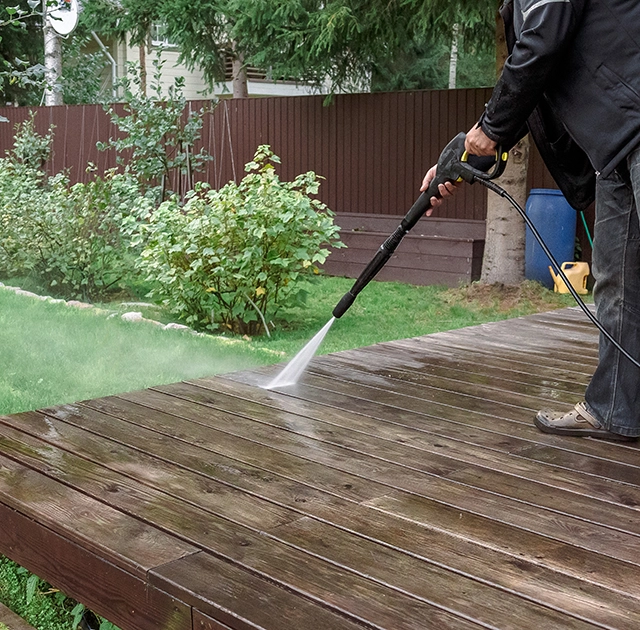 When looking at pressure washing versus the soft washing process, pressure washing better for harder surfaces like concrete or asphalt. This is because the pressure washing method uses highly pressurized water to forcefully remove any dirt or grime from the surface that it comes into contact with. While this process is effective, it does pose the risk of damage to your property when it is not performed on the correct surfaces. Our team utilizes both methods, however when it comes to pressure washing your home, the soft wash method is the way to go!
At Water Workz, we know that you have tons of options when it comes to deciding who to hire for your residential pressure washing services. However, we pride ourselves on being the most professional out of all of the companies you could choose from. When you choose our team for your pressure washing services you can rest assured that your home is treated with the exact same care that we treat our own homes with.
We encourage you to do your homework before settling on a company for your residential pressure washing services by taking the time to check credentials, their level of expertise in the field, and most importantly the reviews and testimonials of previous clients before making your decision. Our team at Water Workz doesn't come with just a 5-STAR rating and reputation, but also a wide range of specialty services that allows your residential pressure washing services to be customized to your home's unique needs.
Our Residential Pressure Washing Services Include:
Deck, Porch and Patio Cleaning
Gutter Cleaning
Roof Washing
Pool Pressure Washing
Driveway Pressure Washing
Walk Way Pressure Washing
Step and Porch Pressure Washing
Chimney Pressure Washing
Efflorescence Removal
Fence Pressure Washing